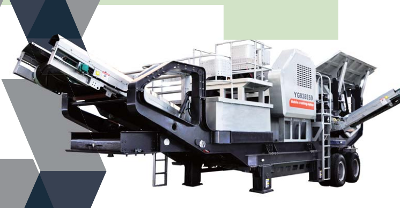 Y SERIES PORTABLE CRUSHING PLANT
Y series mobile crushing plant is designed based on the concept on of fully adapting various crushing condition, eliminating obstacles caused by location, environment, foundation configuration, consequently providing simple, efficient, low-cost crushing equipment. The outstanding features of Y series mobile crushing plant are:
(1) Built with high quality jaw crusher, cone crusher and impact crusher
(2) Feeder, screen and belt conveyor on board
(3) Trac ve steering sha , convenient for road transporta on
(4) Integrated with landing gears, quick and convenient installa on on site
(5) Integrated motor and control panel
Feature
1. Easy to transport
Y series portable plant has high on-board chassis, short wheel base and ght turning radius, which is convenient for road transporta on, especially for driving to crushing sites that are difficult to access. The set-up me of the portable plant are greatly reduced, compared with the sta onary one.
2. Greatly reduce material transporta on cost
Y series portable plants crush the material on site, without transpor ng the materials for off-site crushing, so the material transporta on cost is greatly reduced.
3. Wide applications
According to different customers' requirements, Y series portable plant can be operated as independent units, or as two-stage crushing plant with primary and secondary crushing, or as three-stage crushing plant with primary, secondary, and ter ary crushing. Likewise, Y series portable plant can be easily adjusted to suit the crushing applica on by choosing feeding to crusher or feeding to screen op ons
4. Reliable performance and convenient maintenance
Y series crushing plants adapt excellent quality crusher, screen and feeder made from Shanghai Zenith Company, yet the quality is stable and reliable. Normal belt conveyor can be used for conveyance of material, which is of mature technology, simply opera on, easy maintenance, and low investment.
5. Customized produc on and flexible configura on We can provide special mobile crushing plant based on customers' site, material, and par cle shape requirements, etc. Such as self-load belt conveyor, mul ple machines combined type, single machine type and so on.